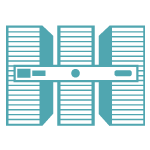 High-Performance Computing
With a total of 3000+ CPU cores, 120,000 GPU cores, 12+TB of memory, and 1 PB of storage across all systems, our High-Performance Computing (HPC) resources allow researchers to run compute-intensive, large memory programs quickly and efficiently; and store data securely and accessibly. We 150operate three supercomputer clusters: Discovery, a Linux HPC cluster with GPU nodes and high-speed interconnects, and Andes and Polaris, two general multi-core large memory Linux systems for research and curricular use.
Our systems are available for use at no cost to members of the Dartmouth community, and we work with researchers of all fields to take advantage of our computational resources or consult on the purchase of dedicated hardware.
To use HPC resources at Dartmouth, all you need to do is request an account with your netID. To request an account, click here. For more information on getting access to the clusters or help using the clusters, click here or contact us at Research.Computing@dartmouth.edu.