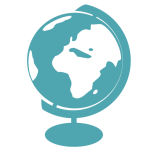 Geographic Information Systems
Geographic Information Systems are systems to create, store, view, edit, analyze and export data that is tied to locations on the earth's surface.
We support and provide GIS software and training, and our GIS Application Specialist can offer expert consultations and assistance.
ArcGIS 10 software is available for download, along with a instructions to connect to the license server:
visit this link for instructions and to download ArcGIS Desktop
For field-based applications, stand-alone licenses can be provided. Contact us.
ArcGIS Online is a Software-As-A-Service available to Dartmouth through a web browser. Visit this link for Dartmouth's ArcGIS Online system . Click "Sign In" > Dartmouth College, and sign in with your Dartmouth Single-Sign-On credentials to create an account.  For more details on ArcGIS Online, see https://services.dartmouth.edu/TDClient/1806/Portal/KB/ArticleDet?ID=123163
We also support developing reproducible workflows for research using R and Python with spatial libraries and spatial data.
See also this link to Software-As-A-Service browser-based applications
GIS Office Hours: https://rc.dartmouth.edu/index.php/office-hours/
or contact:
Stephen P. Gaughan
GIS Applications Specialist
603-646-9524
Stephen.P.Gaughan@dartmouth.edu
---
---